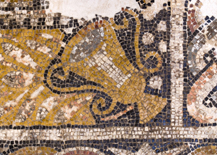 Locality: ARELLANO (31263)
Address: Carretera Allo – Arróniz Km. 20
Zone: The Central Zone
Style: Roman
Centuries of construction: I – V d.C
Visiting hours: **Invierno 2008/2009: viernes y sábados, de 11:00 a 13:30 y de 15:00 a 18:00. Domingos y festivos además de días 24 y 31 de diciembre, de 10:00 a 14:00.
Tel.: 616882912
Description
This is an archaeological site 4 miles south of Arellano, just a short distance from Estella. Its name, "Aurelianum", gave rise to the name of the village.
The place is also known as the "Villa of the Muses" due to the discovery of the spectacular Roman mosaic of "the Muses". This work of art is kept in the National Archaeological Museum but it is possible to admire a detailed reproduction on its original site. The name comes from the representation of the nine goddesses and their maestros.
The archaeological remains found indicate that the villa was built between the 1st and 5th centuries AD. The excavations have revealed different remains from the 1st-3rd century AD linked to the production of wine, as well as other later evidence of a luxurious residence related to the cult of Cybele (the goddess of fertility) and her son and lover Attis. Among the most curious findings is a ceramic wine tasting cup, which is now the icon of the museum.
The Visit
The visit to the site starts in a modern building of 2,411 square metres that contains the main part of the villa. A number of display panels have been placed at the entrance with general information, completed by lecterns at strategic points along the way.
A metal walkway affords access to the different rooms and sections. You can distinguish the two-coloured gravel that indicates the different stages of construction: grey corresponds to structures from the 1st – 3rd centuries AD and pink, those of the 4th and 5th centuries AD.
The most striking ?factories' of the first era are the "fumarium", a room in which wine was artificially aged through heat and smoke, and the "Cella Vinaria" or winery, whose value lies in having conserved all the elements used in the production of wine. Fifteen "dolias" are on display, large earthenware jars for holding the wine with an average capacity of 700 litres each, and the stone altar, which recalls the combination of activities related to wine production and religious ceremonies.
Another of the surprises in the villa is the 3-metre-deep tank, which was basically filled by rainwater. It was an exceptional discovery because this type of construction was more commonly found in Mediterranean areas.
The rooms paved with mosaics correspond to the second era. Apart from the room of the muses there are two others, one in the bedroom and another in the "Oecus" (main room), which covers 90 square metres. Both allude to the cult ofCybele and Attis.
On the outside of the building, and also from the second period, you can visit the stable and the "Taurobolio", a rectangular building with arches that stood around a courtyard. Altars engraved with bulls' heads can be seen in the centre of the courtyard.